The Flip Over SewIn Method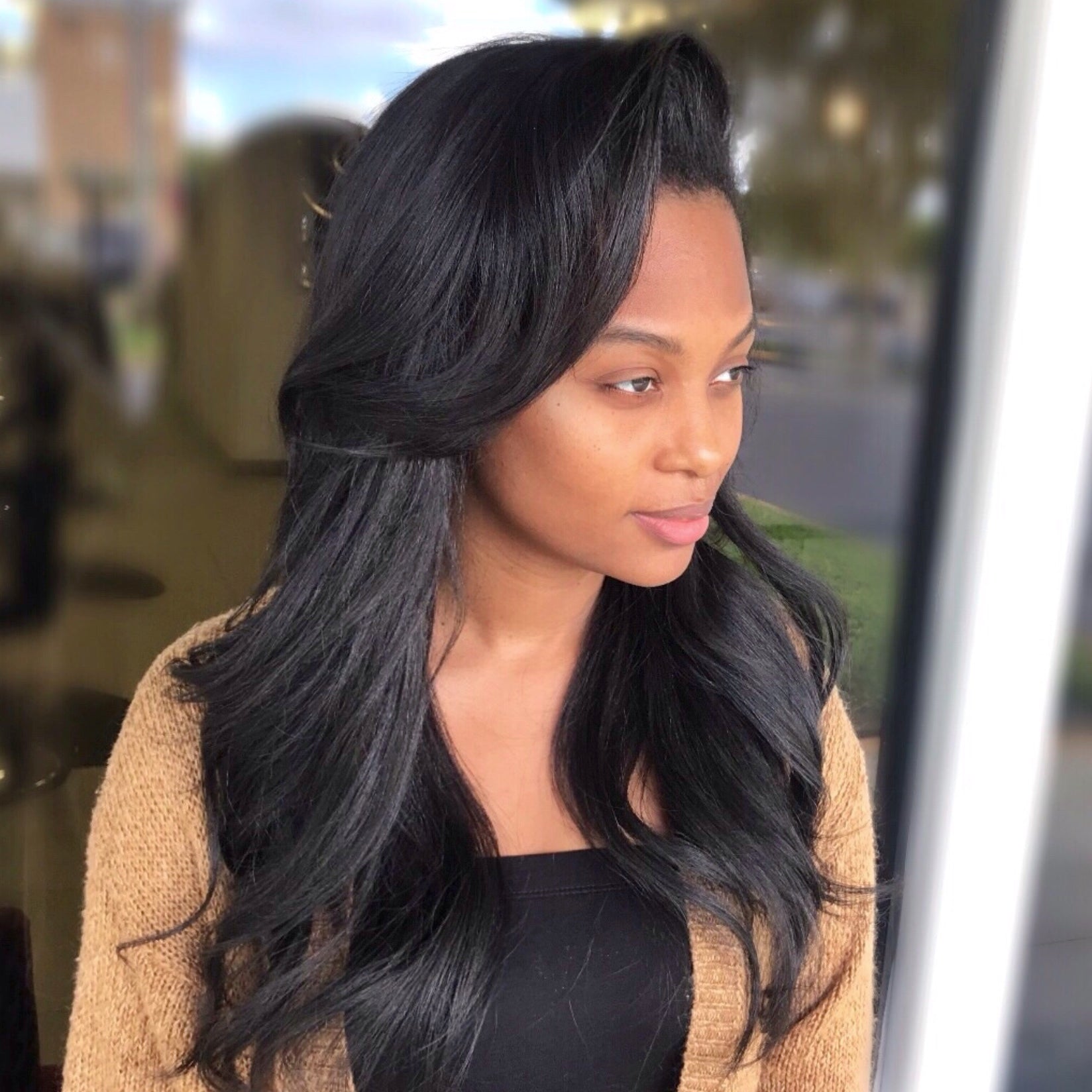 The Flip-Over Sew-In Method represents a hair-weaving technique meticulously crafted to deliver an exceptionally authentic sew-in weave. This method minimizes the necessity for leaving a significant portion of your natural hair out while preserving the visibility of your natural hairline and edges. This unique characteristic enhances flexibility, allowing you to effortlessly switch your hair to any side, free from the confines of a fixed part, whether it's a side part or a middle part. In essence, this weaving technique effortlessly crafts a chic and contemporary everyday appearance. 
Advantages of the Flip Over Sew In:
Tension-free: Zero to low tension on the hairline is a benefit I particularly appreciate, this sew-in method alleviates the strain on your edges, safeguarding the most delicate part of your hair, the hairline, which promotes both hair growth and fuller edges.
Versatility: As previously mentioned, versatility is a key feature of this method, much like the versatile sew-in technique. With this approach, you can style your hair with or without a defined part.
Hair Texture Variety: The flip-over method technique provides you with the freedom to choose any hair texture, whether it's wavy or curly, irrespective of your natural hair texture, as only a small section of your natural hair is exposed.
Additional techniques: Various other approaches can be used to tailor the flip-over method to match individual preferences regarding hair density, lifestyle, and the desired overall appearance.
Diverse approaches for creating a flip-over sew-in can be personalized to suit your hair density, lifestyle, and desired overall style. Here are some of the techniques that I incorporate specific to each client's needs:
Full Flip Over Method 
This approach closely resembles a full sew-in with no leave-out, except for the hairline left exposed along the edges. It's an excellent choice for those seeking a minimal "leave-out," as much of the natural hair is neatly braided and concealed beneath the weave.
Closure Flip-Over Method
Enhancing the flip-over method with the addition of a closure significantly elevates its overall appearance. I integrate a lace closure to achieve a voluminous top and crown section, leaving only the hairline exposed. This approach is particularly recommended for individuals with thin hair who desire a fuller top section, resulting in a striking and alluring hair flip, and it happens to be my preferred technique for creating a truly dramatic and sultry look. 
Versatile Flip-Over Method
This technique combines the flexibility of a versatile sew-in with the added advantage of the "hair flip" feature. A significant amount of your natural hair will be left unbraided, including your full hairline at the front and back edges, as well as a U-part section at the top of your head, offering a balanced blend of natural and added hair.
Flip Over Sew-In FAQS:
What Type of Hair Is Recommended?
For the best results, it is recommended to use pure virgin remy hair, such as the Kelley Tresses medium or low luster hair which blends beautifully with the natural hair.
How Many Bundles Are Required for a Flip Over Sew In?
If you are wearing 18 inches or shorter hair, 1.5-2 bundles of hair are more than enough
For hair lengths between 20 to 24 inches, 3 bundles are recommended, depending on the desired fullness.
For hair longer than 26 inches, 4 bundles are recommended.
What Is the Installation Time?
Typically, a flip-over sew-in will take 2.5-3 hours to complete from start to finish, including the cut and style to top off the installation.
How Long Will a Flip Over Sew In Last?
On average, Flip Over sew-ins can last 8 weeks with proper hair maintenance.
What Is the Cost of a Flip-Over Sew-in?
The cost for the Flip Over sew-in method begins at $370. Additional charges may be applicable based on the quantity of hair to be sewn in or your choice to include a lace closure.
Flip Over SewIn | Style Tip 
The key to achieving a stunning hair flip that lasts throughout the day lies in a strategic approach. First, blow-dry or curl your hair in the opposite direction of your intended final look. For instance, if your plan is to flip your hair to the right, execute all your styling steps with your hair oriented to the left.
Commence with blow-drying your hair, utilize your fingers to lift the hair at the roots, and intermittently switch sides as you dry, even flipping your head upside down for a brief period to ensure that the hair is lifted away from the scalp.
For creating soft and subtle waves in your hair, use a curling wand then use your fingers to lift and direct the hair upward.
For the final touch, flip your hair in the opposite direction, and lock in the flip with a medium hold hair spray, this will also help maintain the volume. 
If you're seeking a Flip Over Sewin Weave in the South Florida region, your search ends here. Pay a visit to our salon today, conveniently situated near Fort Lauderdale, Florida, and easily accessible within a 60-minute drive from Miami, West Palm Beach, and Boca Raton, Florida. Don't hesitate to schedule a consultation to obtain further details on enhancing your appearance and reaching your hair-related objectives.
---
---
Leave a comment
Comments will be approved before showing up.