Hair growth with Sew-ins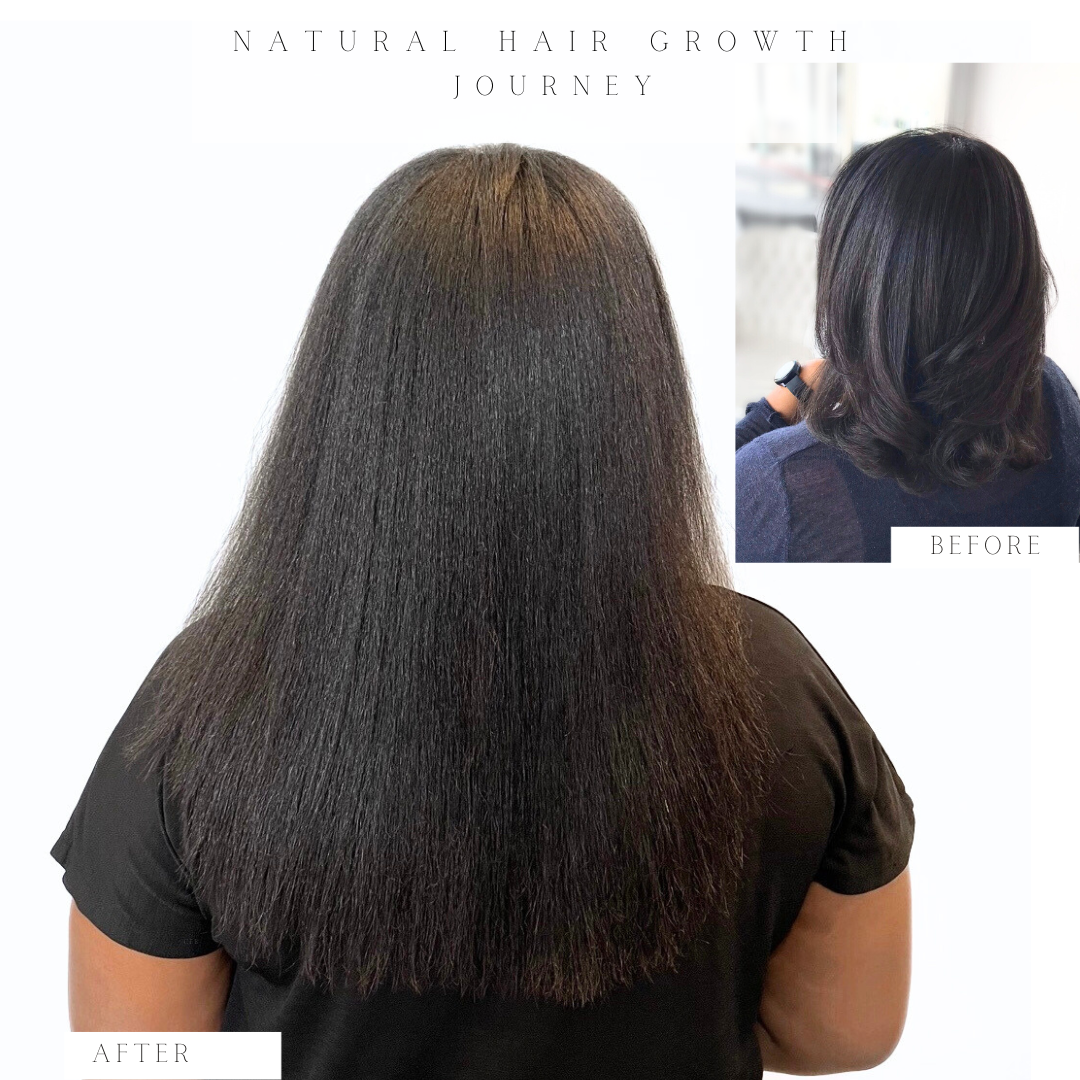 As a cosmetologist with over a decade of experience, I can truly say that sew-ins help with hair growth by aiding in length retention. I've experienced it for myself and have witnessed clients' immense hair growth with healthier and longer hair strands.
With proper care and the right weaving technique that is specialized for your hair type, texture, and density; your natural hair will grow and flourish underneath your weave.
It is also very important to know that the removal of the sew-in truly matters and is crucial in length retention. Either seek a trusted professional to properly remove the sew-in or follow these steps to carefully remove the sew-in to prevent breakage and accidentally cutting into your natural hair.
After un-installing my clients 2 month old sew-in, I am length checking her hair and have noticed one inch of hair growth. Our goal was to get the natural hair past the bra strap. In the picture above it is above "bra strap length." Today her natural hair reaches her mid back, we've exceeded the goal!
Be sure to check out

this blog

to learn my tips on uninstalling your sewin to preserve the length of your natural hair during the sewin-uninstall process to promote and preserve natural hair growth during your hair growth journey.
Sew-ins are considered a protective style because as the name suggest; your natural hair can be fully or partially protected as your hair strands and the ends of your hair are braided and tucked away therefore helping you to retain moisture, reduce over-manipulation, excessive heat from thermal styling and chemical processing from relaxers and color application.
Once your natural hair is temporarily put away underneath the sew-in weave, any unwanted outside elements won't stand a chance in disrupting your hair growth journey!
Remember no matter how short or damaged your hair is, a lot can happen in a year, and I am here to assist you in your hair growth journey, with or without a sew-in weave. But those who can't wait a year to rock long and flowy hair, book the sew-in weave and allow your natural hair to flourish underneath until you're ready to rock your natural hair! 
I like to look at sewins as a way to be stylish yet protect your natural hair underneath, allowing it space and time to grow and flourish without the daily manipulation that we're all so accustomed to. However it is important to not neglect your natural hair during your hair journey while you wear a sew in. Be sure to develop a weekly routine to stay on track of your natural hair growth journey while wearing your sew-in.
Check out pictures of some of my clients who've experienced extreme hair growth in under a year.
Client wearing a full sewin with a lace closure. This is her very first full sewin, she wanted the sewin to resemble the length of her natural hair so we opted for a bob sewin with a lace closure. Meanwhile all of her natural hair is protected and put away completely under the weave.
More tips for growing your natural hair with a sew-in weave:
Protect your natural hair by putting it away, opt for a full sew-in, closure sew-in, or only leave out a minimal amount of hair at the top and hairline, also avoid tight braids around your edges/ hairline.
Cleanse your natural hair, scalp and sew-in weave to prevent buildup. Use a sulfate free or paraben free shampoo.
Treat your hair, don't neglect your hair. Be sure to add moisturizing/hydrating masks, steam treatments or deep conditioning treatments to maintain the moisture in your hair and prevent dryness.
Diet: Be sure to take on a healthy diet, drink water, take your vitamins and minerals that will aid in strengthening your hair underneath your sew-in.
IF YOU'RE LOOKING TO START YOUR HAIR GROWTH JOURNEY WHILE UTILIZING A SEWIN WEAVE BE SURE TO BOOK A CONSULTATION WITH ME AND VISIT THE SALON TODAY WHICH IS CONVENIENTLY LOCATED NEAR FORT LAUDERDALE, FLORIDA AND LESS THAN A 60 MINUTE DRIVE FROM MIAMI, WEST PALM BEACH, AND BOCA RATON FLORIDA.
BOOK A CONSULTATION TO GET MORE INFORMATION ON HOW TO ELEVATE YOUR LOOK AND ACHIEVE YOUR HAIR GOALS. 
---
---
Leave a comment
Comments will be approved before showing up.