Closure Sew-In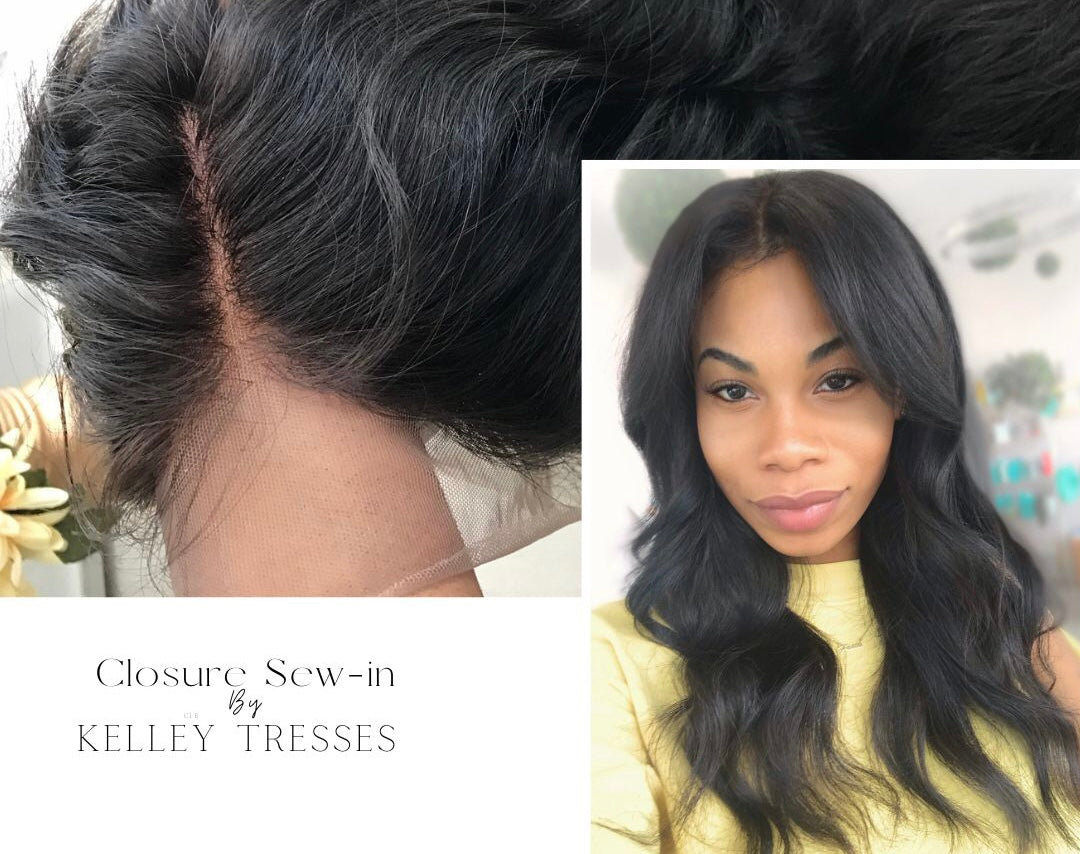 The closure sew-in is one of my favorite methods for achieving a flawless and natural appearing weave. Keep in mind with the right products, hair extension texture, and sew-in technique the closure sew-in will look just as natural and flawless as a partial sew-in or versatile sew-in.
A closure sew-in is a weaving style and technique that includes a silk base closure or a lace closure. My clients and I typically opt for a Swiss lace closure because of its thin and undetectable material, therefore a flawless and very natural appearing install. Its durability enables multiple uses up to 2-3 weaving installations with proper care. To achieve a flawless install while protecting the natural hair underneath, I sew the closure on the crown or top front near the hairline without using glue or tape, the closure is simply secured by sewing with nylon thread.
Adding a closure to your weave will help protect your natural hair from heat styling, too much manipulation and chemicals from either perming, relaxing or coloring. Therefore, the closure is a great addition for those who simply would like to give their natural hair a break by putting their hair away including the "leave-out" portion yet still achieve a very natural looking weave, or full sew-in.
The closure sew-in can be done as a full sew-in where your natural hair is put away and fully braided, the wefts and closure will be sewn on to the braids. None of your natural hair will be left out, and the closure will be used to give off a scalp- illusion once it is securely sewn down to your braids.
The closure sew-in can also be done as a versatile closure sew-in where the middle of your natural hair is braided and your natural hair around the perimeter of your hair line is left out. The versatile closure sew-in is the most natural looking closure sew-in because your natural hairline or edges will be revealed. This method will enable many styles such as a down-do, ponytail, or high bun.
IF YOU'RE LOOKING TO GET A CLOSURE SEW-IN WITHIN THE SOUTH FLORIDA AREA, LOOK NO FURTHER. VISIT THE SALON TODAY WHICH IS CONVENIENTLY LOCATED NEAR FORT LAUDERDALE, FLORIDA AND LESS THAN A 60 MINUTE DRIVE FROM MIAMI, WEST PALM BEACH, AND BOCA RATON FLORIDA. FEEL FREE TO BOOK A CONSULTATION TO GET MORE INFORMATION ON HOW TO ELEVATE YOUR LOOK AND ACHIEVE YOUR HAIR GOALS. 
---
---
Leave a comment
Comments will be approved before showing up.